Journeys of Freedom: One world returns with stark warnings of human rights violations
Two years ago, the pandemic shook the planet and One World. Now, things that are shaking the world of human rights remain in the shadow of this unexpected health crisis, but our festival can't sit back and ignore them. The ongoing authoritarian regime in Belarus, the re-established military dictatorship in Burma, the pressure and criminalisation of the Russian opposition, but also an independent judiciary in Poland under threat…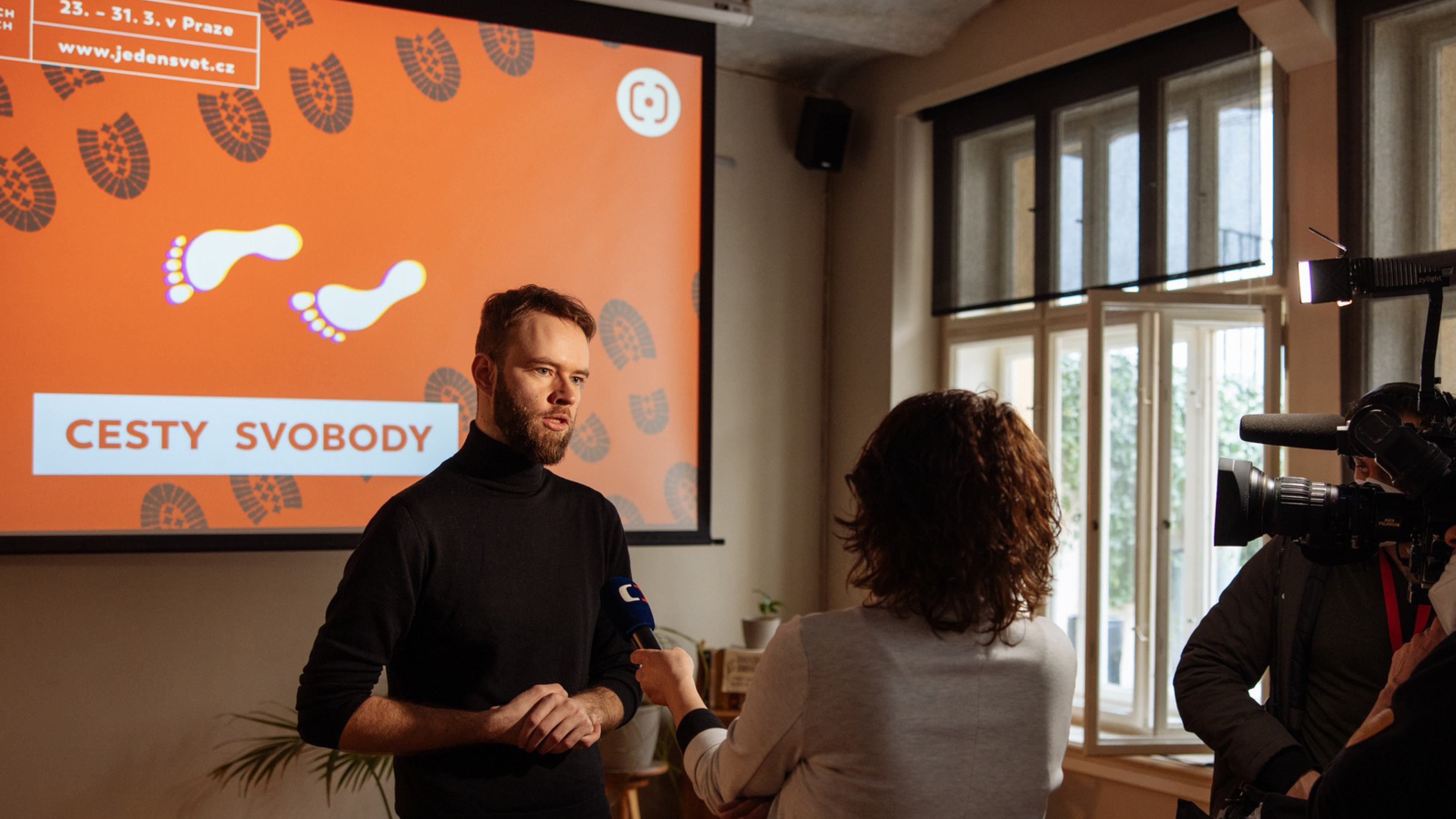 Film Category
One World can't just stand by and watch as human rights continue to deteriorate across the globe. We must do something to draw people's attention to it again. Especially in a year like this when People in Need celebrates its 30th anniversary since its founding. The 24th Annual International Human Rights Documentary Film Festival will take place physically in 25 cities across the Czech Republic from 21 March to 3 April. Prague audiences can look forward to the festival's Prague dates from 23 to 31 March. Select films will also be made available on the One World Online platform once the festival is over. 
"The effort to promote human rights and to help wherever necessary by any possible (and impossible) means is always a challenge and doesn't bring results overnight. Quite the opposite, in fact. While twenty years ago, it seemed as if our fragmented world was slowly but surely moving closer to one better world, today's situation is far from optimistic. That being said, this year's festival will feature a program-wide selection of stories about brave heroes tirelessly fighting for freedom and democracy, proving that active resistance to injustice makes a difference and is here to stay, no matter what happens," describes festival director Ondřej Kamenický.
He adds that the festival already had a similar theme back in 2008 when they roused audiences with the slogan LET'S SILENCE THIS SONG, but unfortunately this song continues to play as loud as ever.
"Although the situation with human rights isn't going the way we had hoped, we at least have one consolation: we only lose if we give up. We don't want to fall victim to self-pity, but we know that if we were to rouse audiences now like we did then, the public wouldn't feel so convinced of the urgency, nor would we, for that matter. We have to ask ourselves, 'How is it possible that this situation keeps playing on repeat?' Who's to blame for it?" says Kamenický.
The festival will continue in its tradition with regard to festival dates, which will again be in March.
"Although it might not seem like it right now given the current situation, we believe that the COVID-19 pandemic will be much tamer in two months' time and that epidemiologists' predictions of the Omicron variant spreading faster but with milder symptoms will prove to be true. Of course, we plan to follow all current government regulations and put together a safe festival for everyone," stresses Kamenický.
The festival campaign was again, for the fifth time, put together by Studio Matyáše Trnky, s.r.o. Public outcry, disturbances, turmoil, shooting, shouting, barefooted people fleeing from armed soldiers wearing combat boots. These are the most common scenes you'll see in this year's festival visuals.
"This year's campaign clearly reflects the theme of the festival and presents various scenarios where roads to freedom can become roads to suppression. We reject these scenarios with a flat-out NO, which shows up in the graphics a lot as a recurring motif. The colour red alludes to the importance of not turning a blind eye to similar scenarios and not ignoring the suppression of human rights in other parts of the globe. For the online segment of the campaign, we incorporated not only negative scenarios into the animations but also positive ones as well. These give us hope that there are still more "good bare feet" than there are "bad combat boots" worn by oppressors," explains the campaign's creative, Matyáš Trnka.