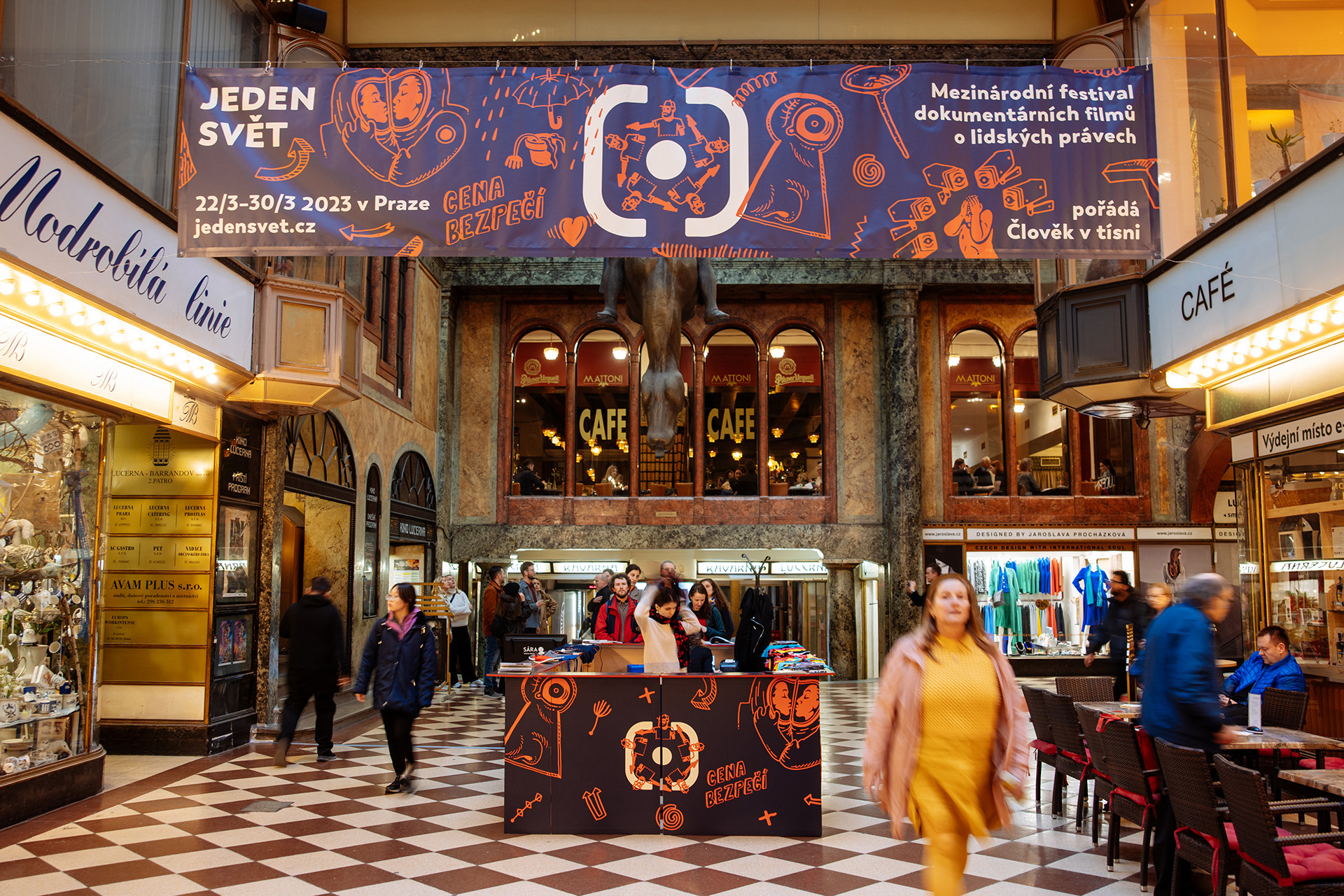 Programme
This year, One World presents 90 documentaries and virtual reality projects in 12 film categories. The virtual reality projects will be available for viewing at the Lucerna Gallery. 
All films are presented with Czech subtitles and are also accessible for English speakers. Exceptions are screenings marked with the pictogram R, which are only in Czech without subtitles. Nine of the virtual reality projects are in English, and the Darkening project is in both Czech and English. 
The festival includes an open discussion programme - in addition to the standard post-film debates, this year's programme also includes several new discussion formats. 
Debates with foreign guests are interpreted into Czech. In the large halls of the Lucerna and Světozor cinemas, debates with Czech and foreign guests are interpreted into both Czech and English. 
After the festival, from 2 to 16 April, twenty selected films will be available for viewing on the One World Online platform.
---
Accessibility
Since 2017, we have been striving to make the festival programme as accessible as possible to all audiences without distinction. Read more about our measures at Accessibility. Detailed information regarding the accessibility of our cinemas and other festival venues in Prague is available here and other cities here.
All films are in Czech or have Czech subtitles.
Selected films are in English or have English subtitles.
Selected films have open captions for the deaf and hard of hearing.
Selected films come with an audio description for the audience with visual disability.
Selected accompanying events include Czech sign-language interpreting.
Selected accompanying events include CART (real-time translation in Czech)
---
Admission
Screenings (Prague) - CZK 130
Screenings (Prague) - seniors, ZTP, ZTP/P disability card holders – CZK 65
ZTP/P card holder's assistant - Free
Discount ticket packages
3 tickets CZK 330
5 tickets CZK 550
10 tickets + voucher for 2 films on OWO CZK 1100 
Film on OWO CZK 90
Tickets to all Prague screenings are available online at Program page or physically at individual screening venues and festival infopoints. 
A ticket to the Lucerna Gallery. For films from the One World Interactive category is valid for one hour, which gives you enough time to watch two or three VR projects. 
Discounted ticket packages are only available for purchase online.
---
Infopoint Lucerna Cinema
Festival infopoints at the Lucerna cinema and the Municipal Library will be in operation for the duration of the festival. Here, you can find all the up-to-date information and purchase tickets for all screenings, as well as festival merchandise.
Vodičkova 36, Prague 1 
Opening hours: 
Mon–Fri: 14:00 – 21:00
Sat–Sun 12:00 – 21:00
---
Infopoint Prague Municipal Library
Here you will find all the necessary and up-to-date information about the festival. You can purchase tickets for film screenings and festival merchandise.
Mariánské náměstí 98/1, Prague
Opening time
Mon–Fri 17:30 – 21:00
Sat–Sun 14:00 – 21:00
---
Download the electronic version of the Yearbook 2021!
You will find all films and thematic categories in it. Learn more about this year's theme and festival news. Programme details, information about accessibility measures and practical information all in one place.