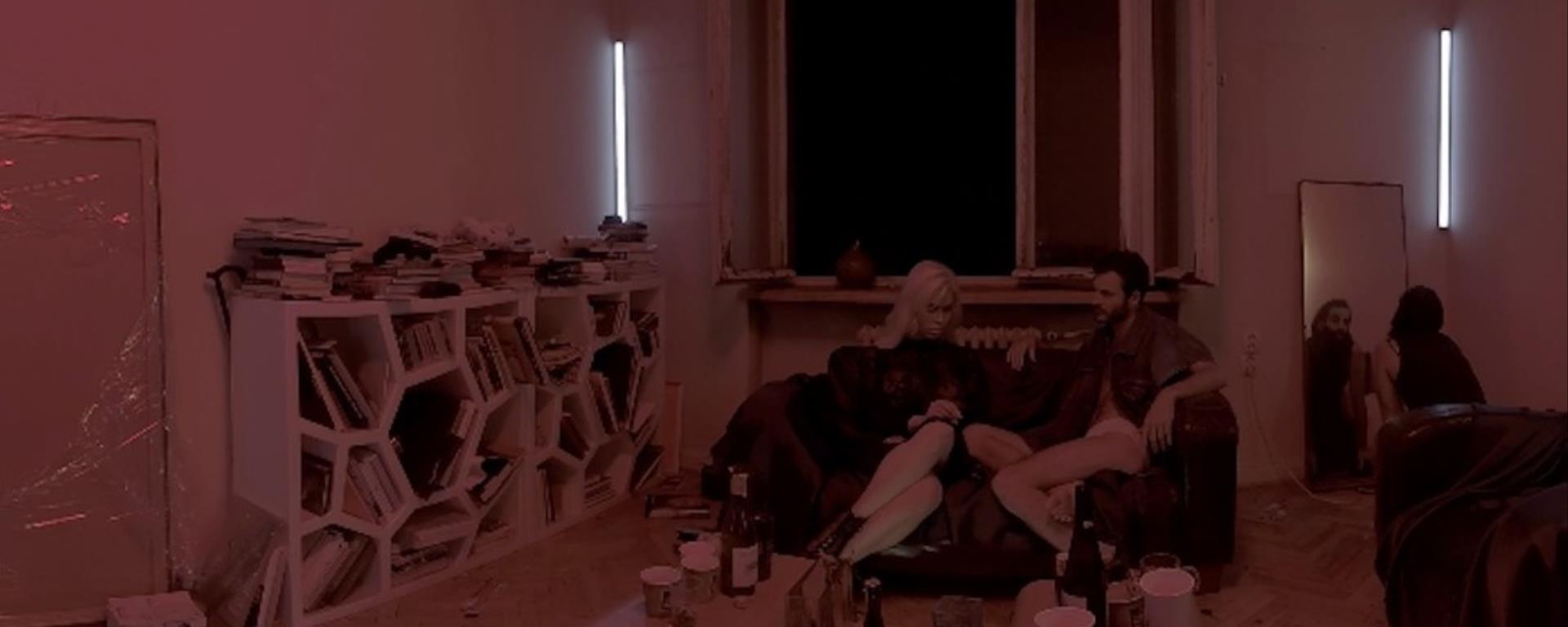 Screenings
| | | | | |
| --- | --- | --- | --- | --- |
| | Praha | Lucerna Gallery, Vodičkova 36, Praha 1 | | Tickets |
| | Praha | Lucerna Gallery, Vodičkova 36, Praha 1 | | Tickets |
| | Praha | Lucerna Gallery, Vodičkova 36, Praha 1 | | Tickets |
| | | | | |
| --- | --- | --- | --- | --- |
| | Praha | Lucerna Gallery, Vodičkova 36, Praha 1 | | Tickets |
| | Praha | Lucerna Gallery, Vodičkova 36, Praha 1 | | Tickets |
| | Praha | Lucerna Gallery, Vodičkova 36, Praha 1 | | Tickets |
| | Praha | Lucerna Gallery, Vodičkova 36, Praha 1 | | Tickets |
| | Praha | Lucerna Gallery, Vodičkova 36, Praha 1 | | Tickets |
| | Praha | Lucerna Gallery, Vodičkova 36, Praha 1 | | Tickets |
| | Praha | Lucerna Gallery, Vodičkova 36, Praha 1 | | Tickets |
| | Praha | Lucerna Gallery, Vodičkova 36, Praha 1 | | Tickets |
| | Praha | Lucerna Gallery, Vodičkova 36, Praha 1 | | Tickets |
| | Praha | Lucerna Gallery, Vodičkova 36, Praha 1 | | Tickets |
| | Praha | Lucerna Gallery, Vodičkova 36, Praha 1 | | Tickets |
| | Praha | Lucerna Gallery, Vodičkova 36, Praha 1 | | Tickets |
| | Praha | Lucerna Gallery, Vodičkova 36, Praha 1 | | Tickets |
| | Praha | Lucerna Gallery, Vodičkova 36, Praha 1 | | Tickets |
| | Praha | Lucerna Gallery, Vodičkova 36, Praha 1 | | Tickets |
| | Praha | Lucerna Gallery, Vodičkova 36, Praha 1 | | Tickets |
| | Praha | Lucerna Gallery, Vodičkova 36, Praha 1 | | Tickets |
| | Praha | Lucerna Gallery, Vodičkova 36, Praha 1 | | Tickets |
| | Praha | Lucerna Gallery, Vodičkova 36, Praha 1 | | Tickets |
| | Praha | Lucerna Gallery, Vodičkova 36, Praha 1 | | Tickets |
| | Praha | Lucerna Gallery, Vodičkova 36, Praha 1 | | Tickets |
| | Praha | Lucerna Gallery, Vodičkova 36, Praha 1 | | Tickets |
| | Praha | Lucerna Gallery, Vodičkova 36, Praha 1 | | Tickets |
| | Praha | Lucerna Gallery, Vodičkova 36, Praha 1 | | Tickets |
| | Praha | Lucerna Gallery, Vodičkova 36, Praha 1 | | Tickets |
| | Praha | Lucerna Gallery, Vodičkova 36, Praha 1 | | Tickets |
| | Praha | Lucerna Gallery, Vodičkova 36, Praha 1 | | Tickets |
| | Praha | Lucerna Gallery, Vodičkova 36, Praha 1 | | Tickets |
| | Praha | Lucerna Gallery, Vodičkova 36, Praha 1 | | Tickets |
| | Praha | Lucerna Gallery, Vodičkova 36, Praha 1 | | Tickets |
| | Praha | Lucerna Gallery, Vodičkova 36, Praha 1 | | Tickets |
| | Praha | Lucerna Gallery, Vodičkova 36, Praha 1 | | Tickets |
| | Praha | Lucerna Gallery, Vodičkova 36, Praha 1 | | Tickets |
| | Praha | Lucerna Gallery, Vodičkova 36, Praha 1 | | Tickets |
| | Praha | Lucerna Gallery, Vodičkova 36, Praha 1 | | Tickets |
| | Praha | Lucerna Gallery, Vodičkova 36, Praha 1 | | Tickets |
| | Praha | Lucerna Gallery, Vodičkova 36, Praha 1 | | Tickets |
| | Praha | Lucerna Gallery, Vodičkova 36, Praha 1 | | Tickets |
| | Praha | Lucerna Gallery, Vodičkova 36, Praha 1 | | Tickets |
| | Praha | Lucerna Gallery, Vodičkova 36, Praha 1 | | Tickets |
| | Praha | Lucerna Gallery, Vodičkova 36, Praha 1 | | Tickets |
| | Praha | Lucerna Gallery, Vodičkova 36, Praha 1 | | Tickets |
| | Praha | Lucerna Gallery, Vodičkova 36, Praha 1 | | Tickets |
| | Praha | Lucerna Gallery, Vodičkova 36, Praha 1 | | Tickets |
| | Praha | Lucerna Gallery, Vodičkova 36, Praha 1 | | Tickets |
| | Praha | Lucerna Gallery, Vodičkova 36, Praha 1 | | Tickets |
| | Praha | Lucerna Gallery, Vodičkova 36, Praha 1 | | Tickets |
| | Praha | Lucerna Gallery, Vodičkova 36, Praha 1 | | Tickets |
| | Praha | Lucerna Gallery, Vodičkova 36, Praha 1 | | Tickets |
| | Praha | Lucerna Gallery, Vodičkova 36, Praha 1 | | Tickets |
| | Praha | Lucerna Gallery, Vodičkova 36, Praha 1 | | Tickets |
| | Praha | Lucerna Gallery, Vodičkova 36, Praha 1 | | Tickets |
| | Praha | Lucerna Gallery, Vodičkova 36, Praha 1 | | Tickets |
| | Praha | Lucerna Gallery, Vodičkova 36, Praha 1 | | Tickets |
| | Praha | Lucerna Gallery, Vodičkova 36, Praha 1 | | Tickets |
| | Praha | Lucerna Gallery, Vodičkova 36, Praha 1 | | Tickets |
| | Praha | Lucerna Gallery, Vodičkova 36, Praha 1 | | Tickets |
About the film
A queer poem about gender transformations, hallucinogenic desires, and uncanny relationships.
It's past dawn, in an apartment inhabited by several figures. They are frozen in time, frozen in the movements they were making. They look at each other, caress each other, sleep, masturbate with VR helmets on their faces. In one magical moment, they come to life and start a languidly intoxicating party. In Wojciech Puś's essayistic 360° film, we follow several people of different genders and ethnic identities as they navigate a path through night, life, desire, and futility. Fragments of their stories are only fleetingly revealed in poetic speeches that resemble a verbal symphony rather than a narrative. The director builds the experience on hallucinogenic light work and uncomfortable camera movements. Will this party ever end, or have we found ourselves trapped with the characters in a labyrinth of existence that has no end?
Title
Endless VR Segue
Original Title
Endless VR Segue
Original Language
English, Polish, Ukrainian
Subtitles
English
Premiéra
World premiere
Year of Production
2022
Country of Origin
Poland
Length
18 min.
Tags
LGBTQ+, Europe
Director
Wojciech Puś
Endless VR Segue