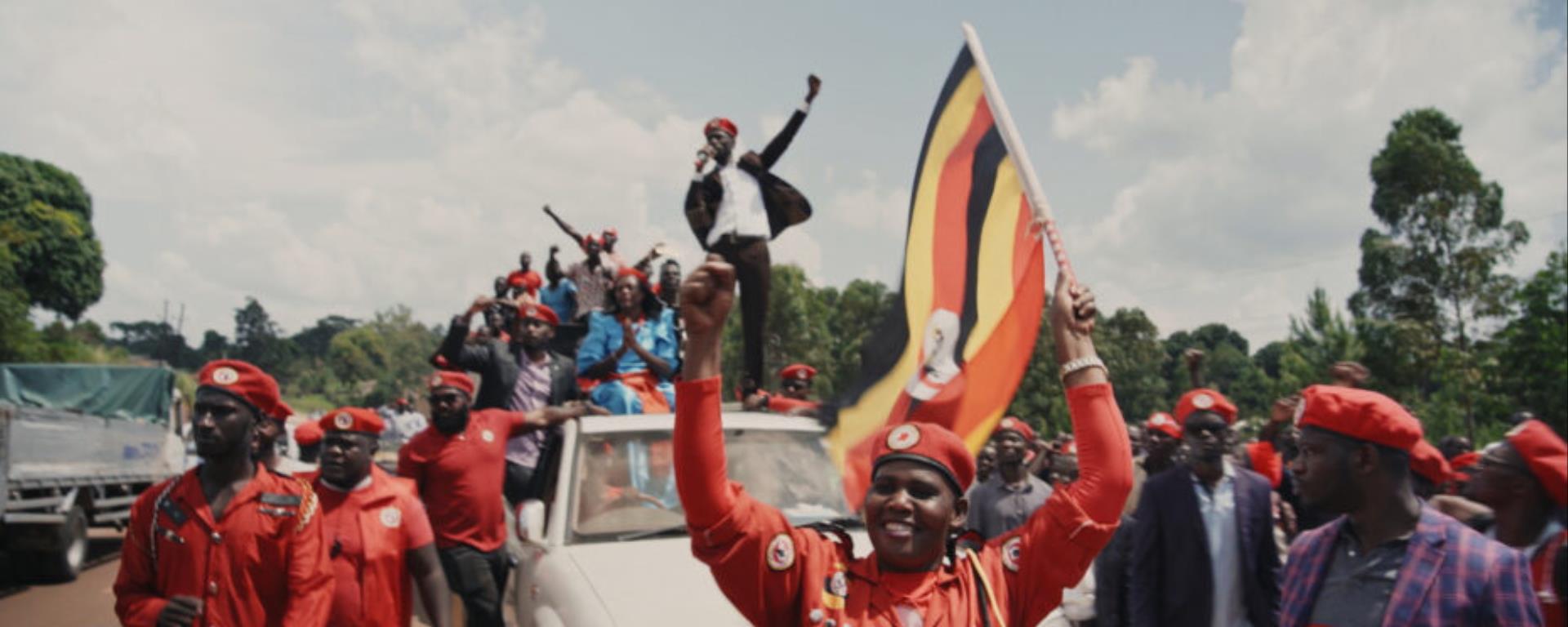 Films > Right to Know
Bobi Wine: The People's President
(Bobi Wine: The People's President)
Screenings
Plzeň
Moving Station, Koperníkova 574/56, Plzeň
Praha
Atlas – large hall, Sokolovská 371/1, Praha 8

Discussion
Vít Zdrálek, Ethnomusicologist


Tickets
Ostrava
Minikino, Kostelní 2572/3, Ostrava
Praha
Prague Municipal Library – large hall, Mariánské nám. 1, Praha 1

Discussion
Christopher Sharp, Director
Bobi Wine, Protagonist
Barbie Wine, Protagonist


Tickets
Klatovy
Cinema Šumava, Vídeňská, Klatovy
tickets
Ústí nad Labem
Hraničář, Prokopa Diviše 1812/7 , Ústí nad Labem
Brno
University Cinema Scala, Moravské náměstí 3, Brno
tickets
Opava
Klub Art, Ostrožná 46 (vstup z ul. Beethovenova), Opava
České Budějovice
Kino Kotva, Lidická tř. 2110, České Budějovice
Ústí nad Orlicí
Malá scéna, Havlíčkova 621, Ústí nad Orlicí
Praha
Světozor Cinema – small hall, Vodičkova 41, Praha 1
Tickets
Ostrava
DK Poklad, Matěje Kopeckého 675/21, Ostrava-Poruba
Třinec
Třinec Library, Lidická 541, Třinec
Semily
Cinema Jitřenka, Tyršova 49, Semily
Roztoky u Prahy
Vratislavka café, Kroupka 38, Roztoky
tickets
Police nad Metují
Kolárovo divadlo, Jiráskova 151, Police nad Metují
Děčín
Le Garage Noir, Podmokelská 24 , Děčín
About the film
Uganda is a democracy only on paper. The charismatic opposition politician and popular reggae musician Bobi Wine discovered this when he faced the dirty practices of his political rival during the presidential campaign. The documentary tells the story of the birth of a political star.
Uganda was ruled for years by the dictator Idi Amin. People hoped for a fresh start when Yoweri Museveni replaced him in 1986. Instead, there has been increased corruption and no end to the arrests and torture of opponents. The ghetto singer Robert Kyagulanyi, better known as Bobi Wine, became a folk hero. In 2021, he decided to run for president. Shot with the urgency of his catchy protest songs, the film first looks back at Wine's rapid political rise. It then chronicles the course of the campaign, unfolding in an atmosphere of fear and uncertainty due to violent incidents. Yet the politician representing the views of a large part of the population continues to have faith in democracy. *The film contains drastic footage.
Title
Bobi Wine: The People's President
Original Title
Bobi Wine: The People's President
Original Language
English, Luganda
Subtitles
English, Czech
Premiéra
Czech premiere
Year of Production
2022
Country of Origin
Uganda, UK, USA
Length
114 min.
Tags
Dictatorships, Politics, Missuse of Power, Africa

Director
Christopher Sharp

Director
Moses Bwayo
Bobi Wine: The People's President