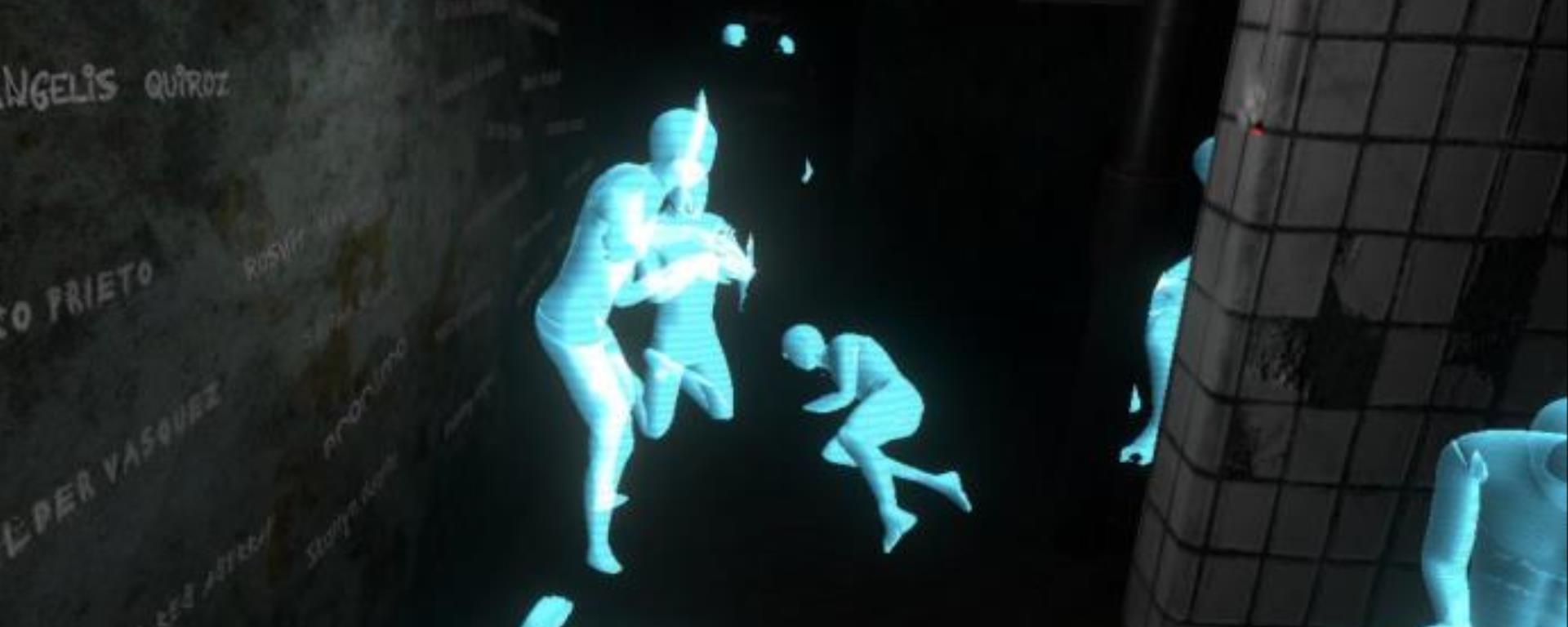 Films > One World Interactive
El Helicoide Historical Memory Museum
(Museo Memoria Histórica El Helicoide)
Screenings
| | | | | |
| --- | --- | --- | --- | --- |
| | Praha | Lucerna Gallery, Vodičkova 36, Praha 1 | | Tickets |
| | Praha | Lucerna Gallery, Vodičkova 36, Praha 1 | | Tickets |
| | Praha | Lucerna Gallery, Vodičkova 36, Praha 1 | | Tickets |
| | | | | |
| --- | --- | --- | --- | --- |
| | Praha | Lucerna Gallery, Vodičkova 36, Praha 1 | | Tickets |
| | Praha | Lucerna Gallery, Vodičkova 36, Praha 1 | | Tickets |
| | Praha | Lucerna Gallery, Vodičkova 36, Praha 1 | | Tickets |
| | Praha | Lucerna Gallery, Vodičkova 36, Praha 1 | | Tickets |
| | Praha | Lucerna Gallery, Vodičkova 36, Praha 1 | | Tickets |
| | Praha | Lucerna Gallery, Vodičkova 36, Praha 1 | | Tickets |
| | Praha | Lucerna Gallery, Vodičkova 36, Praha 1 | | Tickets |
| | Praha | Lucerna Gallery, Vodičkova 36, Praha 1 | | Tickets |
| | Praha | Lucerna Gallery, Vodičkova 36, Praha 1 | | Tickets |
| | Praha | Lucerna Gallery, Vodičkova 36, Praha 1 | | Tickets |
| | Praha | Lucerna Gallery, Vodičkova 36, Praha 1 | | Tickets |
| | Praha | Lucerna Gallery, Vodičkova 36, Praha 1 | | Tickets |
| | Praha | Lucerna Gallery, Vodičkova 36, Praha 1 | | Tickets |
| | Praha | Lucerna Gallery, Vodičkova 36, Praha 1 | | Tickets |
| | Praha | Lucerna Gallery, Vodičkova 36, Praha 1 | | Tickets |
| | Praha | Lucerna Gallery, Vodičkova 36, Praha 1 | | Tickets |
| | Praha | Lucerna Gallery, Vodičkova 36, Praha 1 | | Tickets |
| | Praha | Lucerna Gallery, Vodičkova 36, Praha 1 | | Tickets |
| | Praha | Lucerna Gallery, Vodičkova 36, Praha 1 | | Tickets |
| | Praha | Lucerna Gallery, Vodičkova 36, Praha 1 | | Tickets |
| | Praha | Lucerna Gallery, Vodičkova 36, Praha 1 | | Tickets |
| | Praha | Lucerna Gallery, Vodičkova 36, Praha 1 | | Tickets |
| | Praha | Lucerna Gallery, Vodičkova 36, Praha 1 | | Tickets |
| | Praha | Lucerna Gallery, Vodičkova 36, Praha 1 | | Tickets |
| | Praha | Lucerna Gallery, Vodičkova 36, Praha 1 | | Tickets |
| | Praha | Lucerna Gallery, Vodičkova 36, Praha 1 | | Tickets |
| | Praha | Lucerna Gallery, Vodičkova 36, Praha 1 | | Tickets |
| | Praha | Lucerna Gallery, Vodičkova 36, Praha 1 | | Tickets |
| | Praha | Lucerna Gallery, Vodičkova 36, Praha 1 | | Tickets |
| | Praha | Lucerna Gallery, Vodičkova 36, Praha 1 | | Tickets |
| | Praha | Lucerna Gallery, Vodičkova 36, Praha 1 | | Tickets |
| | Praha | Lucerna Gallery, Vodičkova 36, Praha 1 | | Tickets |
| | Praha | Lucerna Gallery, Vodičkova 36, Praha 1 | | Tickets |
| | Praha | Lucerna Gallery, Vodičkova 36, Praha 1 | | Tickets |
| | Praha | Lucerna Gallery, Vodičkova 36, Praha 1 | | Tickets |
| | Praha | Lucerna Gallery, Vodičkova 36, Praha 1 | | Tickets |
| | Praha | Lucerna Gallery, Vodičkova 36, Praha 1 | | Tickets |
| | Praha | Lucerna Gallery, Vodičkova 36, Praha 1 | | Tickets |
| | Praha | Lucerna Gallery, Vodičkova 36, Praha 1 | | Tickets |
| | Praha | Lucerna Gallery, Vodičkova 36, Praha 1 | | Tickets |
| | Praha | Lucerna Gallery, Vodičkova 36, Praha 1 | | Tickets |
| | Praha | Lucerna Gallery, Vodičkova 36, Praha 1 | | Tickets |
| | Praha | Lucerna Gallery, Vodičkova 36, Praha 1 | | Tickets |
| | Praha | Lucerna Gallery, Vodičkova 36, Praha 1 | | Tickets |
| | Praha | Lucerna Gallery, Vodičkova 36, Praha 1 | | Tickets |
| | Praha | Lucerna Gallery, Vodičkova 36, Praha 1 | | Tickets |
| | Praha | Lucerna Gallery, Vodičkova 36, Praha 1 | | Tickets |
| | Praha | Lucerna Gallery, Vodičkova 36, Praha 1 | | Tickets |
| | Praha | Lucerna Gallery, Vodičkova 36, Praha 1 | | Tickets |
| | Praha | Lucerna Gallery, Vodičkova 36, Praha 1 | | Tickets |
| | Praha | Lucerna Gallery, Vodičkova 36, Praha 1 | | Tickets |
| | Praha | Lucerna Gallery, Vodičkova 36, Praha 1 | | Tickets |
| | Praha | Lucerna Gallery, Vodičkova 36, Praha 1 | | Tickets |
| | Praha | Lucerna Gallery, Vodičkova 36, Praha 1 | | Tickets |
| | Praha | Lucerna Gallery, Vodičkova 36, Praha 1 | | Tickets |
| | Praha | Lucerna Gallery, Vodičkova 36, Praha 1 | | Tickets |
| | Praha | Lucerna Gallery, Vodičkova 36, Praha 1 | | Tickets |
About the film
A tour of a virtual Venezuelan museum showcasing one of the world's worst prisons.
In the beginning it was a spectacular project. El Helicoide was intended to become one of the largest department stores in Venezuela. But the pyramid-shaped structure in the middle of Caracas eventually found another purpose. It has become a prison, especially for political prisoners who have stood up to the undemocratic regime of President Nicolás Maduro. The public is strictly forbidden to enter the building. The project's authors have therefore decided to create a virtual museum, in which they use former prisoners to reveal what goes on behind the walls of El Helicoide. Sculptures depicting the guards' brutality are interspersed with realistic models of filthy cells. How can we finally escape the labyrinth of this morass that symbolizes the suffering of the whole country? *The film contains drastic footage.
Title
El Helicoide Historical Memory Museum
Original Title
Museo Memoria Histórica El Helicoide
Original Language
English, Spanish
Subtitles
English
Year of Production
2022
Country of Origin
Venezuela, Argentina
Length
30 min.
Tags
Dictatorships, Cost of Safety, Latin America

Director
Victor Navarro
Director
Victoria Marcano
El Helicoide Historical Memory Museum