European premiere
Come & Take it
Come & Take it
PJ Raval, Ellen Spiro
USA | 2018 | 25 min.
Language: English
Filmy jsou promítány v českém znění
nebo s českými titulky
When the state of Texas permitted the carrying of firearms on university campuses, student Jessica Jin and her colleagues decided to protest with dildos in hand.
In 2015, the governor of Texas signed a controversial law permitting the carrying of firearms on university campuses. In response, Jessica Jin and other students created an original protest campaign entitled "Cocks not Glocks", calling for the visible carrying of rubber penises. In doing so they pointed to the absurdity of the Texas law: while carrying guns in the campus is legal, the depiction of a penis is a misdemeanour. Do erotic aids pose a greater threat to students than a loaded weapon? The film explores how opposing parties can engage in dialogue in a democratic society where everyone claims freedom of expression.
Director
PJ Raval
Filmography
2018 - Call Her Ganda
2018 - Come & Take It
2013 - Before You Know It
2013 - CHRISTEENE "Big Shot"
2011 - Slacker 2011
2009 - Backroads

Ellen Spiro
Filmography
2018 - Come & Take It
2012 - Fixing the Future
2010 - Fixing the Future
2007 - Body of War
1999 - Independent Lens
1993 - Greetings From Out Here

Sales
Sarah Garrahan

e-mail: sarahgarrahan@gmail.com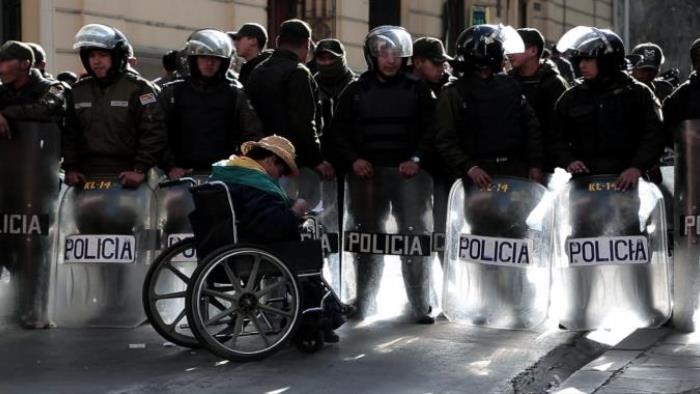 The Fight
People with disabilities are viewed as second-class citizens in Bolivia. A peaceful protest by a group of wheelchair users turns into a battle when police use tear gas and water cannons against them.