In the besieged eastern area of Ghouta 400,000 civilians have become imprisoned, continually facing air raids in the Syrian civil war. For many of them, the last rescue is provided by a hospital with a complex of underground shelters, also called the Cave.
"Is it a warplane?" This question, asked by medical personnel in the "Cave" at every sound resembling an airplane, permeates the film as an ominous chorus, and is often followed by a cruelly unambiguous answer when more bombs hit and a stream of bloodied people pour into the hospital, often children. They are looked after by a team of medical professionals led by a young doctor, Amáni. Her reflections, related off camera, are framed by a drama in which a nurse, while helping others, must cope with religiously motivated misogyny, lack of medicine, an oppressive environment and the growing threat of fatal attack. With his new film, the director of the award-winning Last Men in Aleppo, Feras Fayyad, earned his second Oscar nomination for Best Documentary.
Impact
The film presents a devastating eye-witness account of the humanitarian crisis in Syria. It is also a testimony about the position and role of women. The protagonist, Doctor Amani Ballour, inspired the creation of the
Al Amal (Hope) Fund
, the proceeds of which will be used to support women facing similar situations in regions of conflict. You can support the fund with a financial contribution. Another way in which you can support Doctor Amani and other healthcare professionals working under difficult conditions is by signing the
Petition for Truth
. The petition aims to not only spread awareness about the entire situation, but also to voice a challenge addressed to politicians, asking them to intervene and to help those in need. #StandWithDrAmani
About the film
Director: Feras Fayyad
Denmark, Germany, Qatar, Syria, USA
2019 | 103 min.
Language: Arabic
Subtitles: English
Category
Director
Feras Fayyad
Filmography
2019 - The Cave
2017 - Last Men in Aleppo
2016 - My Escape
2014 - Behind the White Color
2012 - On the Other Side


Screenings
13. 09.

20:00
Atlas - Small Hall

20. 09.

18:00
Svetozor - Large Hall
Transnistra
A poetic film about a group of young people in Transnistria, whose adolescence and future lives are shaped by the environment in their native country, which is facing social, political, and economic problems.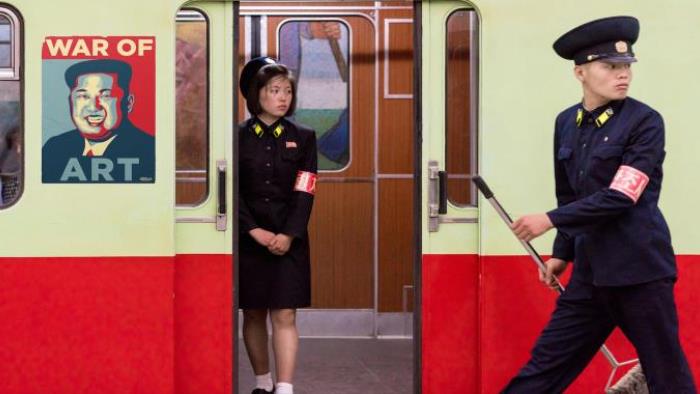 War of Art
Do Europeans have a way to artistically enrich North Koreans? And vice versa? The film presents a clash of two views of art and its different roles in society.