Everything you ever wanted to know about the war in Ukraine
10. 03. 20:00h
Audience Centre at Tibet Open House, Školská 28, Prague 1
The conflict in eastern Ukraine has lasted for six years. It has all but disappeared from the Czech media, although 3.5 million people on the ground still need humanitarian assistance. Some of them will be introduced virtually during the evening.

What is life like just a few hundred metres from the front line? People in Need's humanitarian workers lent mobile phones to five local people and taught them how to shoot vlogs. Marina, Galina, Natalia, Valentin and Sergei had never taken a selfie before, never held a camera in their hands. Yet they made a unique series This Is Us, This Is Ukraine, part of which will be screened at the debate.

The series was created as part of the ACCESS project, funded by the European Union under the Humanitarian Aid and Civil Protection programme. During the evening, director and cinematographer Zdeněk Chaloupka will present his multimedia project Forgotten War.
A Forgotten War shows the daily life of the residents of Avdiivka, a town that found itself on the frontlines of the battles between the Ukrainian government and pro-Russian separatists in 2014. Although the worst of the battles are long past, the war has never really ended here. People keep on living, but daily life in wartime and memories of recent trauma affect them all. The viewer has the opportunity to learn the stories of several of Avdiivka's inhabitants. In addition to videos, there are photographs, graphic materials, and supplementary informational texts.
A discussion with these guests will follow: Tereza Hronová (series editor), Petr Štefan (theme, production), David Mastný (Ukraine mission), Zdeněk Chaloupka (project creator)
The web documentary A Forgotten War is a FAMU and PINK co-production. It can be seen during the entire duration of the festival at the Audience Centre.
Screening of the film in Světozor's large theatre at 18.00
More information on facebook event.
ACCOMPANYING EVENT TO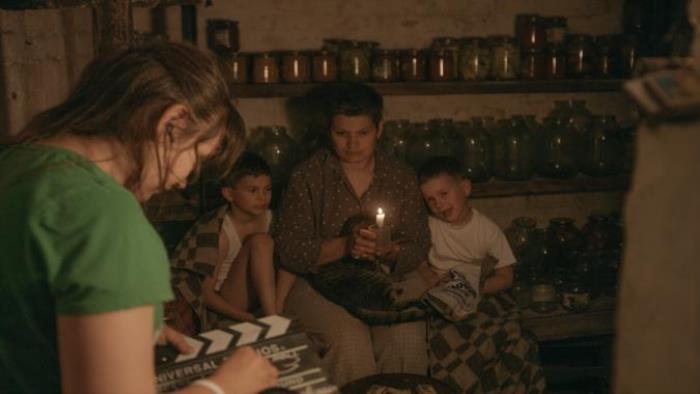 For one mother and her children, making a film together is a way of coming to terms with the trauma of war in Donbass, Ukraine.