Hongkong in a whirlwind of protests
Kino 35, Štěpánská 35, Prague 1
Guest: Amon Yiu Yeuk-wa
Host: Vojtěch Boháč, Voxpot
A new wave of protests in Hong Kong was triggered by a draft law intended to strengthen the influence of mainland China, which is the official administrator of this territory. More than a million people from various segments of society regularly set out for the streets but an important role was once again played by students, as was the case during the Umbrella Revolution in 2014.

Where do the roots of the discontent lie? What is the current situation? What developments can be expected in Hong Kong in the future?

Amon Yiu is a member of the Demosistō political movement, which was started by a group of students active in the Umbrella Revolution. In addition to political activism, Amon is interested in the history of Hong Kong and international relations. He is also actively involved in community life.

The discussion will be simultaneously interpreted into Czech.
The debate follows the screening of the film and is only accessible with a valid ticket. The ticket can be purchased at the
cinema website
.
Guest
Amon Yiu Yeuk-wa
Amon Yiu Yeuk-wa is currently a member of the young activist group Demosisto in Hong Kong. Now he works as a researcher on international affairs and the archival project Decoding Hong Kong's History (DHKH) in Demosistō. Majoring in Cultural Studies in the Chinese University of Hong Kong, Amon also joined two community-building advocates Very Hong Kong and Liber Research Community after graduation and published several reports on land use issues in Hong Kong.

ACCOMPANYING EVENT TO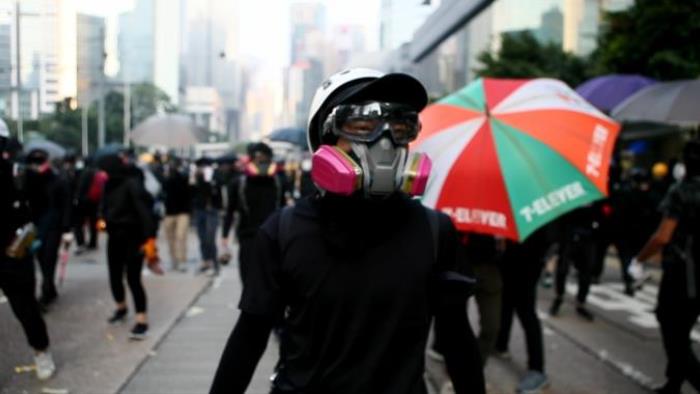 In the first half of 2019, Hong Kong took to the streets. Over the subsequent weeks and months, this gesture of peaceful civil protest has become an act of desperate defiance against escalating repression.
Grarup's work takes the viewer to the limits of human despair, dignity, suffering and hope. His images are relevant to us all, because they form a...
ACCOMPANYING EVENT TO Photographer of War
Join us to celebrate the opening of the 22nd annual festival! At 22.30, Kyrgyz singer and activist Zere Asylbek, whose work promotes feminism and gender...
What has the role of women in politics been? And what should it be? Do political solutions introduced by women differ from those presented by men? These...
ACCOMPANYING EVENT TO The Feminister
We are bombarded daily by reports of irreversible changes to our planet, the threat of a sixth mass extinction or the oceans warming until we feel like...
For our latest reportage we set out on a journey across Central Asia to China's border provinces. We observed the first manifestations of the New...
The unique Museum Alive project brings a completely new perspective on extinct species. Instead of classical stuffed exhibits, it presents virtual extinct...
ACCOMPANYING EVENT TO Museum Alive with David Attenborough
The lecture in cooperation with My Street Films will guide you through the process of creating a story in a documentary film. How can hours of footage...
ACCOMPANYING EVENT TO The Earth Is Blue as an Orange
On Saturday and Sunday, our Audience Centre will become a centre for recycling, upcycling, sustainable and creative activities. Martina Novotná will...
A new wave of protests in Hong Kong was triggered by a draft law intended to strengthen the influence of mainland China, which is the official administrator...
ACCOMPANYING EVENT TO Do Not Split
Inner courtyards as an opportunity for an urban environment. Are they a guide to a better climate in the city? And how to set the right "neighbourhood...
ACCOMPANYING EVENT TO Ice on Fire
Adults have a tendency to protect children from information that might upset them – and the facts about climate change often belong to this category....
ACCOMPANYING EVENT TO Ice on Fire
Every year, experienced documentary mentor Mikael Opstrup watches 700–800 pitching trailers and hundreds of presentations. At the same time, he...
The first few minutes of a film are the most important. The topic is set in the exposition and the aesthetic means which transports the topic are presented....
Life in cities around the world continues to cost more and more. Accessible housing is becoming the number one problem, and today we sometimes even need...
ACCOMPANYING EVENT TO Push
Fermentation and pickling is the oldest way of storing vegetables. Fermented vegetables contain a lot of vitamins, minerals, beneficial bacteria, enzymes...
ACCOMPANYING EVENT TO When Tomatoes Met Wagner
The conflict in eastern Ukraine has lasted for six years. It has all but disappeared from the Czech media, although 3.5 million people on the ground still...
ACCOMPANYING EVENT TO The Earth Is Blue as an Orange
"Speaking about Documentary Distribution, it's assumed to be about making non-fiction travel, and sell. We call international distribution...
The documentary feature Trees Floating by Salomé Jashi is a co-production between CORSO Film / Germany, Mira Film / Switzerland and Sakdoc Film / Georgia....
Five upcoming feature documentaries are presented by producer-director team to an audience of invited representatives of leading international film festivals,...
Austrian producer Johannes Rosenberger of Navigator Film will share his experience and will offer his insight into differences in navigating producing...
Average temperatures continue to rise, weather fluctuations occur more often, and scientists' warnings about the irreversibility of climate change...
ACCOMPANYING EVENT TO Ice on Fire
A workshop from which you will take herbs for home cultivation in unexpected forms, bred for you in Kokoza. You will try cutting the herbs indoors, roll...
ACCOMPANYING EVENT TO Sovereign Soil
In the era of alt-truth, fake news and troll farms, the critical filmmaking is more than necessary to advocate for the voice of the powerless, promote...
The role of men has been visibly changing over the past few years, along with the demands and expectations of their surroundings. For some, true masculinity...
ACCOMPANYING EVENT TO The Happiest Man on Earth
We invite you not only to a presentation of contemporary Cuban reportage, but also to taste Cuban snacks and take part in an informal debate. The evening...
21 feature-length documentaries in development and production from Central and Eastern Europe will be pitched to international industry professionals...
The migration crisis may have long disappeared from front page headlines, but the reasons forcing the inhabitants of Africa and the Middle East to set...
ACCOMPANYING EVENT TO Sea-Watch 3
Has the #metoo campaign thrown you for a loop? Don't know how to meet someone and start a romantic relationship? Are you worried that you can't...
ACCOMPANYING EVENT TO School of Seduction