Short and Apt
After a several year hiatus, the festival returns to the short documentary form. Short films offer the opportunity to explore the most up-to-date themes, leave plenty of room for post-film debate, and have changed dramatically in recent times. There are an increasing number of online platforms that work with short documentaries, for example the British newspaper the Guardian, which not only streams films on its website, but also contributes to their production. And they are not just reportage films. In short, it can be said that short documentaries are experiencing a golden age, and One World wants to be a part of it.
Films in category Short and Apt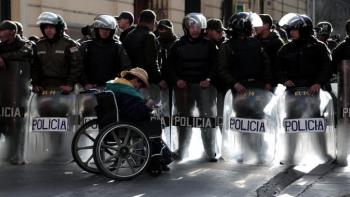 People with disabilities are viewed as second-class citizens in Bolivia. A peaceful protest by a group of wheelchair users turns into a battle when police use tear gas and water cannons against them.