!!!
To a certain extent, the place where one lives defines the identity of the characters in the films in this year's new category. They are, in one way or another, drawn into global events, whose very tangible impacts can be clearly captured in local conditions. Local residents often react in self-defense by creating new groups, defining themselves against others and protecting their territories. The sense of loss of safety and the disturbance of the space we perceive as our own often leads to the need to create borders, whether imaginary or physical, and can be easily exploited by populist politicians.
Films in category !!!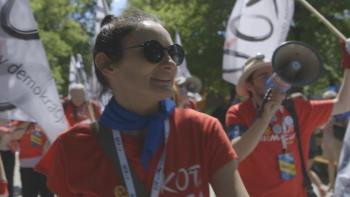 In recent years the political tension in Poland has been escalating unprecedentedly. This film presents the dramatic developments through the eyes of 2 women on opposite sides of the political barricade.
History and present, facts and myths, authenticity and stylisation – the film presents the peculiar inhabitants of the largest island of the world in imaginative contrasts and with subtle humour.