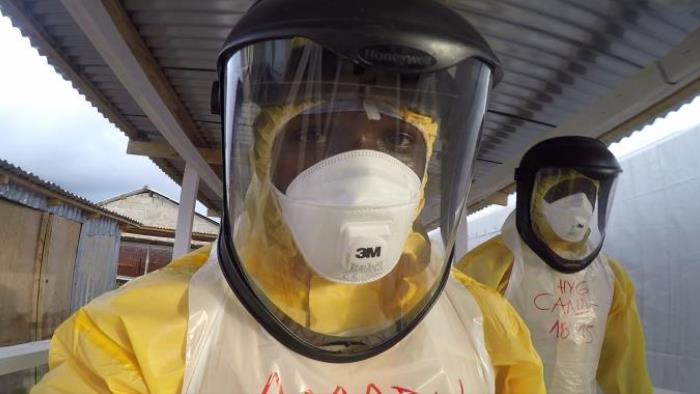 Czech premiere
Survivors
Survivors
Arthur Pratt, Banker White, Anna Fitch
Sierra Leone | 2018 | 84 min.
Language: Creole, English
Filmy jsou promítány v českém znění
nebo s českými titulky
An epidemic that keeps returning. Last time it struck was in the West African state of Sierra Leone in 2014. A portrait of local humanitarian workers that captures the fight against the deadly Ebola virus.
Filmmaker and local pastor Arthur Pratt focuses primarily on the stories of ambulance driver Mohamed Bangur and nurse Margaret Sesay, who, as first-line workers, come into frequent contact with the infected. This meticulously observational film presents their personal portraits, doubts, fears and joys, complemented by stories about their own family. The film explores not only the impact of the epidemic on families and society, but also shows an infrastructure broken by civil war and misunderstandings between international organisations and local communities.
Impact
Films from Africa are not always filmed by local filmmakers, but Survivors is. The WeOwnTV organisation collects funds to support local West African filmmakers and journalists from countries affected by Ebola. You can also promote filmmaking in this region through the online Sierra Leone Ebola Campaign. At the same time, an oral history archive called WeSurvive: Stories of the Ebola Outbreak with stories about locals affected by the illness will be created. You can also support the archive online. More info: https://www.globalgiving.org/projects/wesurvive-stories-of-the-ebola-outbreak/.
Director
Banker White
Filmography
2018 - Survivors
2013 - The Genius of Marian
2005 - Refugee All Stars
Arthur Pratt
Festival guest on days
Mar 06 - Mar 11, 2019
Filmography
2018 - Survivors

Anna Fitch
Filmography
2018 - Survivors
2013 - The Genius of Marian
2010 - The Burning Wigs of Sedition


Sales
Banker White
WeOwnTV
e-mail: banker.white@gmail.com