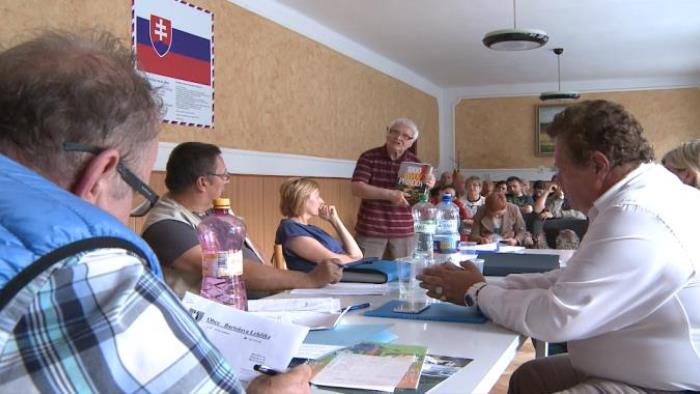 World premiere
The Siege
Obléhání města
Vít Janeček, Zuzana Piussi
Czech Republic, Slovakia | 2019 | 69 min.
Language:
Filmy jsou promítány v českém znění
nebo s českými titulky
A new film by Zuzana Piussi and Vít Janeček about how the inhabitants of the town of Kremnica in Slovakia opposed mining companies. Will their efforts achieve the desired goal?
In the Middle Ages, Kremnica supplied the whole of Europe with gold. It was a rich city that had been besieged several times, but never fell. In the 21st century, the town is again fighting for the return of lost glory. It turns out that it's possible to get rich here even today. But there is only gold dust, the mining of which would mean the devastation of the surrounding countryside and nature. A group of local activists launches a fight against the national and multinational companies. And they are not afraid to enter high politics either. They fight for the precious sundew Drosera rotundifolia, for salamanders, but above all for their home. But they are up against companies backed by officials, politicians and a sophisticated PR machine.
Director
Zuzana Piussi
Filmography
2019 - The Siege
2019 - University and Freedom
2017 - Peasant Common Sense
2017 - Czech Allah
2016 - Difficult Choice
2014 - Transference
2012 - The Grasp of the State
2012 - Fragile Identity
2011 - Chicken Love
2011 - Muži revolucie
2011 - Disease of the Third Power
2009 - Hrdina naší doby
2009 - Koliba
2009 - Myslím, tedy slam
2008 - Babička
2007 - Stoka - epilog
2005 - Anjeli plačú
2004 - Bezbožná krajina

Vít Janeček
Filmography
2019 - The Siege
2019 - University and Freedom
2017 - Peasant Common Sense
2013 - Celnice: Útočiště interiérového člověka
2013 - Treating History
2011 - 24
2011 - Race to the Bottom
2010 - Robota
2010 - Skvělá příležitost
2008 - Dobrodružství Anny Barbory - Mezihra
2008 - Ivetka a hora
2008 - Panna Marie, Ivetka, atd.
2007 - Dějiny Jaroslava Šabaty
2005 - Pravidla hry - Vymezení prostoru
2004 - Den E
2003 - NATO Inside Our Hearts?
2002 - Nové možnosti
2000 - Battle for Life
2000 - Cistička divadlem
2000 - Houba
1998 - V centru filmu - v teple domova

Sales
Vít Janeček
D1film
e-mail: vit@d1film.com