Czech premiere
The Border Fence
The Border Fence
Nikolaus Geyrhalter
Austria | 2018 | 112 min.
Language: German, Italian
Filmy jsou promítány v českém znění
nebo s českými titulky
Plans were made to build a fence at the Brenner Pass border crossing between Austria and Italy in order to tighten the process and control the number of arriving migrants. The locals, accustomed to the tranquility of the Alps, become witnesses to the changes that are shaking Europe.
Rather than refugees, the film presents a number of Austrians who meet them on a daily basis. They are given the space to explain, in an uninterrupted monologue in their home environment, why the situation is not black and white, and that neither uncertainty nor fears about the future stand in the way of feeling empathy for those who are fleeing war. Through these testimonies, the film outlines the difference between an uncompromising system solution and the position of individuals who deal with the migrants as human beings and ask themselves about the sort of future awaiting Europe.
Director
Nikolaus Geyrhalter
Filmography
2019 - Earth
2018 - The Border Fence
2016 - Homo sapiens
2015 - Over the Years
2013 - CERN
2012 - Danube Hospital
2011 - Abendland
2010 - Allentsteig
2008 - 7915 Km
2005 - Unser täglich Brot
2002 - Temelin. Ein Dorf in Südböhmen
2001 - Elsewhere
1999 - Pripjať
1997 - The Year After Dayton
1994 - Washed Ashore
1993 - Fremde Kinder

The Good Change: Poles Apart
In recent years the political tension in Poland has been escalating unprecedentedly. This film presents the dramatic developments through the eyes of 2 women on opposite sides of the political barricade.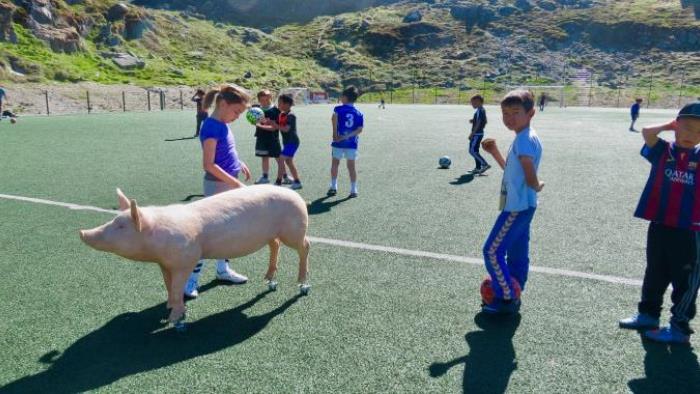 The Raven and the Seagull
History and present, facts and myths, authenticity and stylisation – the film presents the peculiar inhabitants of the largest island of the world in imaginative contrasts and with subtle humour.